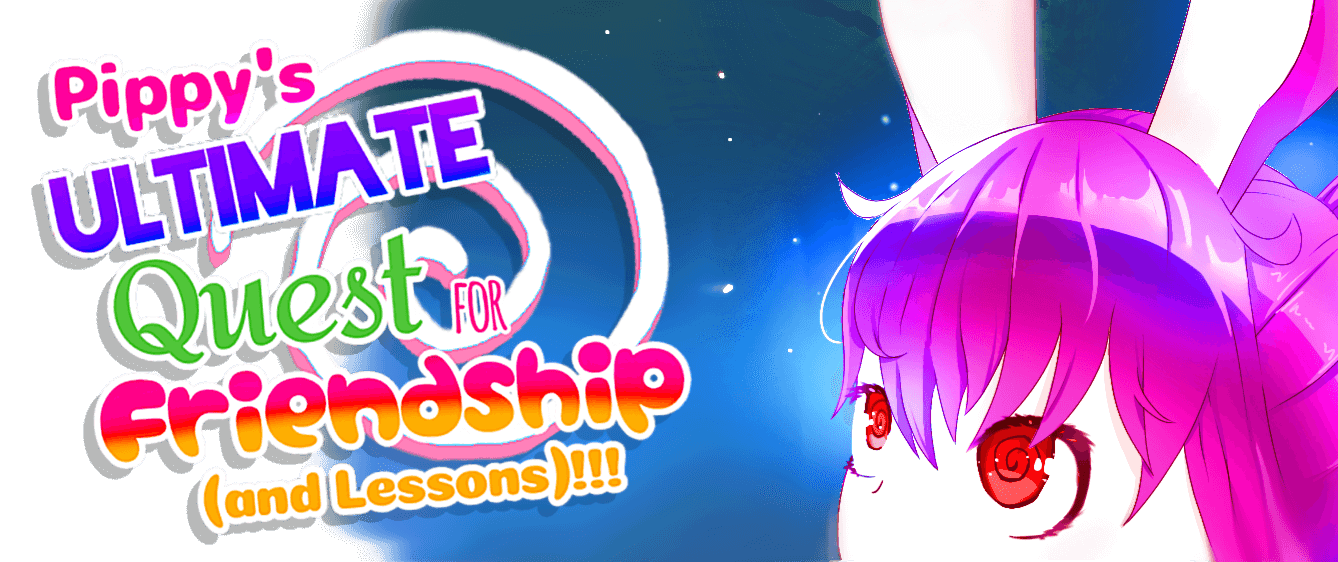 Pippy's Ultimate Quest for Friendship (and Lessons)!!!
This time around, the Browser Version has some AMAZING new features where it:
* Doesn't work on mobile at all, I think. Not anymore at least
* Still kinda lags and hasn't been fully tested, so please download the game otherwise!

Who doesn't want friends?
(Don't answer that. Just keep reading.)

The sequel to this game is out now! (It's a little darker, spoiler warning if you haven't played PUQFFAL first): https://mintglow.itch.io/myxs-bittersweet-musings

As Pippy the annoying cliché hyperenergetic rabbit, working at a maid cafe, at the age of 11, in a peaceful animal world where there is no more school, your goal is to make as many friends as you can (unless you don't want to, that is).

Will Pippy get enough friends to be satisfied?


This is the first demo/part in the series, so there will be more development with these characters! But this is still a full game!

(Please blame Pippy for giving the game an obnoxiously-long title.)


---
Features:
* Features that don't tell you much about the story!
* An incredible story and character-driven visual novel!
* 1 - 1.5 hour long gameplay! (Not too long and not too short)
* 5+ CGs!
* Over 50+ character sprites!
* 5 endings! (But you do want to make friends... right?)
* 11,000+ words!
* Animal people who live in an animal world!
* Interesting and (literally) colorful cast of (4) characters!
* Friendships that blossom!
* Pippy! NYAHAHAHAHA-- (What)
* And last, but not least, learn valuable lessons!


Disclaimers (SPOILERS):
* Birds aren't mammals. That was totally not a mistake on my part.
* Screen shakes and possibly sudden movements.
* Few choices and friends can be made. (Quality over quantity... Right?)
* Unsettling themes and content warning: Emotionally manipulative content, possibly disturbing sprites, small mentions of violence.
* This first game focuses on the start of relationships and who to have a relationship with (so you can think of it as part one or a demo for the upcoming games)! There is nothing blatantly romantic yet, but the game still concerns these and their issues.
* I have yet for anyone to complain, but if you find something not cool about my games that slipped under my radar, please do contact me/talk to me.


Thank you for checking out my page! Please let me know what you think/what I can improve for next time by leaving a comment and a rating :D (they're all appreciated, uwu).

If you've played at least one of my games... I wanna know something, hehe. (this will only be up until the third game is released.)
Special thanks:
❤️ Thank you to all the people that take the time to play the game and especially those who give feedback!

❤️ Thank you to those who playtested my game and took their time to help me edit!

To Be Continued...
For more updates, check here: https://twitter.com/MINTGL0W
More games: https://mintglow.itch.io/
---
How to play:
0. Don't use the browser version
1. Download the game with your operating system
If on PC:
2. Extract contents of the .zip file where you'd like
3. Open extracted folder
4. Run the .exe file and enjoy!
If on Android:
2. Go to your downloaded files and run the .apk
3. Open the app and enjoy!
| | |
| --- | --- |
| Status | Released |
| Platforms | Windows, macOS, Linux, Android, HTML5 |
| Release date | Oct 18, 2021 |
| Rating | |
| Author | MintGlow |
| Genre | Visual Novel, Interactive Fiction |
| Made with | Clip Studio Paint, Adobe Photoshop, Adobe After Effects, Ren'Py, FL Studio, Paint Tool SAI, Audacity, Adobe Illustrator |
| Tags | 2D, Anime, Cute, Dark, Female Protagonist, LGBT, Multiple Endings, Sci-fi, Slice Of Life |
| Average session | About an hour |
| Languages | English |
| Inputs | Keyboard, Mouse, Touchscreen, Smartphone |
| Accessibility | Subtitles, One button |
| Links | Twitter, Soundtrack, Other Games, YouTube |
Download
Click download now to get access to the following files:
PUQFFAL-android.apk
89 MB
a little banner for those who purchased the Queer Games Bundle uwu, thank you!.png
if you pay $10 USD or more
Also available on
Comments
Log in with itch.io to leave a comment.
Pretty good! Some of the dialogue was pretty meta which I enjoyed
i loved this! the story was... not better, that's not the correct word... deeper? as in, there was so much more to the characters and lore than i expected there to be. and i was pleasantly surprised! i expected it to just be a cute game about making friends, and while it is cute and it is about making friends, that's not all it is. great work! i'm currently playing the second game, will be letting you know about my thoughts once i'm done with that one :P
PS: to answer the question 'why would you even get this ending?' -> i'm a completionist. i HAVE to have all endings. it's a curse :')
Oh my goodness you don't know how happy your comment makes me!!!! Thank you for leaving feedback, I love reviews that comment about the story and characters :D

Hehe, I KNOW that completionist feeling too, it's truly a curse XD. Again, thank you super much for playing and for finding out that it was more than it seemed to be ♥

good visual novel i like it :) it's very cute
This one is a really good game considering the time it took to make it!
Thank you for your kind words and for trying it out!!! And thanks for hosting the jam! :D

This is such a well-made game for a short amount of time! I love the art and aesthetic (Pippy is so cute!), and it's an important message for young people to hear who are starting to choose which friendships cultivate, since making choices like this can affect their lives in rippling effects.

Keep writing stories, making games, and creating art! ♥

Aww, thank you so much for playing my game!!! I really do want people to learn about this issue since we see it so often in contemporary anime and television and media that it bleeds into real life. I would have loved to play this game when I was younger, I even would now, hehe.

Thank you again for your kind comment :D