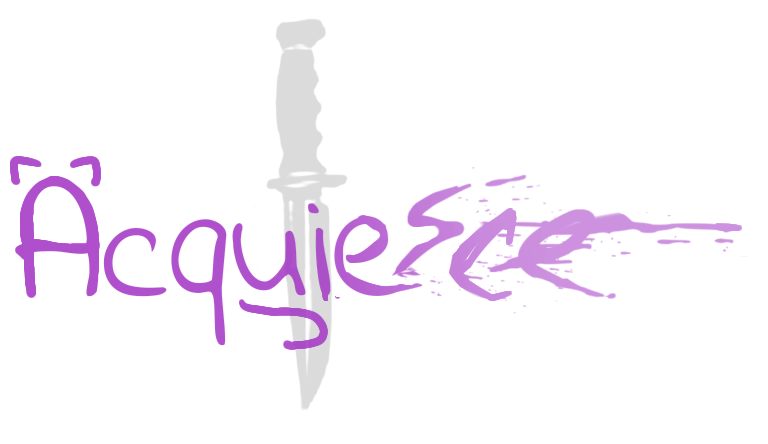 Acquiesce
A downloadable visual novel
Play the demo that isn't a very good demo for the real game here :3


(6/1/22) The game is abouuuut 60% done?? 
I have some good ideas, but just like Myx's game,
I might have to rewrite at least half of it XD.
Thanks for being interested or curious :3
 
This link keeps reverting to HTML:
https://twitter.com/MINTGL0W
 
Still in college now, cheers,
MintGlow
The third game in the tetralogy/trilogy, The Dose Makes The Poison. Contains the future of the characters through the point-of-view of Aq.
Each of the games in the tetralogy can be played separately, but I do not recommend doing so! (It would spoil the games and some references might not make sense.)
Who doesn't want friends?
At least, Aq wants that, and more.

As a slightly less edgy cat girl at 17, you hang out with your friends and crush on a rabbit.
... What? That's it???

... Maybe? ;)

Features (still counting):
* A few takes on family, romantic, and friend relationships wrapped in a thrilling story and character-driven visual novel!
* ~ 2-hour-long gameplay? (that's too long for me tbh)
* At least 5 character graphics!
* 2,000+ character sprite variations ;;
* Infinite endings!*** (I'm not sure how to do this yet, so more like a LOT of endings?)
* Animal people who live in an animal world!
* Interesting and (literally) colorful cast of characters!
* Friendships that have already blossomed! I think! So... Lovey-dovey UWU that blossoms!
* Aq.
* And last, but not least, find out what happened to everyone(?) after the first and second game!
Disclaimers:
* This continues off of the True Ending of PUQFFAL!!! and Myx's Bittersweet Musings. If you didn't finish those, well, I won't stop you from being spoiled I guess.
CLICK TO VIEW CONTENT/TRIGGER WARNINGS, BUT THEY MAY CONTAIN SPOILERS (and are subject to change anyway, but they still might contain spoilers.)

Violence (Both gun and knife usage, death, and sounds)

"Blood" (Illustrations)
Strong language
Some things in metaphor for homophobia
Gaslighting and emotional manipulation
Infidelity
Rape
Severe anxiety and uncomfort
* This game is not suitable for children nor those who are easily disturbed. (However, I will still encourage you to be aware of these topics no matter who you are.)


Thank you for checking out my page! Please let me know what you think by leaving a comment :D (They are all appreciated.)

Psst... I wanna know something, hehe. (this will only be up until this game is released.)
For more updates, check here: https://twitter.com/MINTGL0W

*** Oh, really.